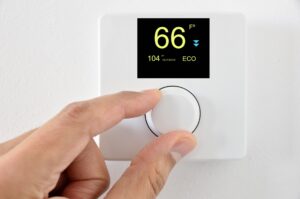 Happy Fall! Now that we're getting into the chillier months of the year, it's time to take a look at one of our HVAC components that work front and center in our homes. No, we're not talking about your heater or your air ducts, we're talking about the little machine that sits on your wall and allows you to turn the temperature up or down. Your thermostat!
Thermostats do a lot of leg work, contrary to popular belief. They look snazzy and sometimes have cool smart controls, but they're more than just nifty looking—they provide essential temperature control and regulation for your home. The more high-tech and up-to-date your thermostat is, the better your home comfort will be. This isn't us just geeking out over technology, we're trying to inform you about a great upgrade that you could make today!
Next time you call us for heating repair in Livingston, NJ, you might want to upgrade your thermostat as well.