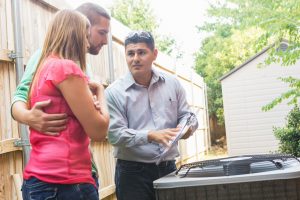 What does it mean to go pro? Is hiring a professional for all your HVAC needs too expensive? Well, we'd absolutely say no to that. Professional HVAC service is the first line of defense against pretty much all problems that your comfort system will run into. The price might be higher than the amateur who lives down the street, but it's worth every penny.
Today, we're going to talk about HVAC in Cedar Grove, NJ—more specifically about how professional HVAC service makes a huge difference. When you sign up with a team that's licensed, well-trained, and well-equipped for the job on hand, your results will always be better.
Don't gamble with the health and longevity of your air conditioner. Schedule professional service with our team today to experience a new level of service and comfort.
The "Pros" of Professional Service
Professional service is important for a variety of reasons, which we'll get into. If you could take one thing away from this blog post, it's that your air conditioner or other HVAC system is just going to be in better hands when you work with a team that's more experienced. Don't be enticed by cheap prices, price is not everything in this equation.
Proper Licenses and Certifications
Do you know what can happen when an amateur opens your air conditioner up to perform repairs? You could get smacked in the face with a huge repair bill down the line and a voided warranty by the manufacturer. That's bad news for your budget and your mood.
Licensed and certified HVAC professionals are the only ones you should be letting open your system up and provide repairs. There's no need to worry about a botched repair job or voided warranty. You're in good hands when you make this kind of call.
24/7 Emergency Service
Amateurs are free when they want to be free. HVAC professionals are free when you need them to be free. This is a big difference. Our team offers 24/7 emergency services for this exact reason. Air conditioner repair needs don't always come up at convenient times. In fact, more often than not they happen at the most inconvenient moments. That's why our team is always available to take a call and come help you out. Professional service means a higher standard for customer service, which is exactly what you should grow to expect.
Experience
Sometimes homeowners can be tricked into amateur service by charisma and cheap prices. However, what you'll end up with is someone who has never dealt with the specific repair you need. This can be a disaster, both for your HVAC system and your wallet.
When you sign up with a team of professionals, you're getting their experience as well as their technology and expertise. When it comes to repair needs or installations, a more experienced technician is always better. Our team might be small but we've got trustworthy technicians with years of experience that have dealt with every HVAC repair you can think of. Don't hesitate to call on the best in the business.
Ready to upgrade to professional service? Call the team at MarGo Plumbing Heating Cooling Inc.