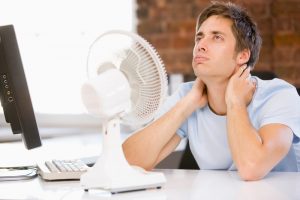 What do you think of when you think of air conditioning problems? A system that won't start up? An air conditioner with a dreaded refrigerant leak? Maybe a system that short cycles? These are all obvious problems, but they're also big-picture issues. What about the more "minor" problems that can have big implications for your system if left unaddressed? Something like, say, dirty coils? Because if your AC's coils are dirty, you're asking for trouble!
Today, we are going to explore the potential consequences of allowing your coils to get too dirty. It may not sound like a huge deal, but it can lead to major problems for your air conditioning system. You may even find yourself in need of air conditioning repairs in Roseland, NJ, that could otherwise have been easily avoided. So read on, and remember to contact a member of our team for any AC services that you may need.
What Are These Coils? What Do They Do?
The coils in your air conditioning system are where the magic happens! And, by magic, we simply mean the evaporating and condensing of refrigerant. It is this process that allows for cooling to take place. Remember, air conditioners don't magically create cool air. They remove existing heat from the air in homes and then recirculate the cool air throughout the house.
The AC coil in your indoor unit is called the "evaporator coil," and this is where the refrigerant in the system is evaporated. The evaporation of refrigerant allows for the heat to be drawn out of the air in your home. That refrigerant then makes its way to your outdoor coil, where it is condensed. Want to guess what this coil is called? The condenser coil. Maybe not very creative, but apt.
As the refrigerant in the condenser coil is condensed, its heat is released into the air outside. This process is continued until desired temperatures are met and maintained in your home. Anything impeding this process is going to make it more difficult for your system to cool your home, including dirty coils.
The High Price of Dirty Coils
When your evaporator coil is too dirty, it makes it difficult for heat to be removed from the air in your home. Your system will struggle to remove a sufficient amount of heat, resulting in an ineffective cooling performance. Your coil may get too cold, which can lead to the development of ice as condensation on the coil freezes. That can further exacerbate matters. If the coil freezes up, the system can then short cycle as it overheats in trying to do remove heat, causing further energy spikes while also greatly increasing wear and tear on the system—as well as the risk of damages.
The outdoor coil won't effectively release heat if it's too dirty, either. Even dirt and debris built up on the condenser fins can make the AC system work harder than it should have to. If you really want to set your AC up for success, contact us to have your coils expertly cleaned.
Schedule your AC services with MarGo Plumbing Heating Cooling Inc.