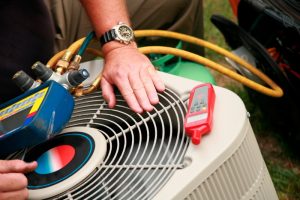 Summer may be rapidly approaching, but it certainly doesn't feel that way yet. While our temperatures have not been soaring the way they sometimes can early in the season, the fact is that you should still have AC maintenance on your mind. In fact, you should have scheduled AC maintenance already. Don't wait for the heat to strike before doing so. Get out in front of it if you really want to enjoy the full benefits of air conditioning maintenance.
Routine air conditioning tune-ups have a lot to offer, not the least of which is keeping the need for air conditioning repair in Clifton, NJ, at bay. Contact a member of our team today if you are ready to get your air conditioner in great working condition. Our Makes $ense Maintenance Program is just what you need to make air conditioning maintenance as simple and beneficial as possible. With our help, you can cool your home with well-earned confidence.
What if I Just—
If you were about to complete that sentence with "tune up my air conditioner myself," then we're glad that we stopped you when we did. Just because AC maintenance is a preventative service, just because it's not an emergency situation like a broken down AC in July might be, does not mean that it is a job that you can handle on your own. Air conditioning maintenance is much more complex and involved than many homeowners seem to realize.
When we tune up your air conditioner, we really go over it with a fine-toothed comb. We'll check refrigerant levels to rule out leaks. We test electrical components like relays and capacitors for proper operation. We clean coils and replace filters as needed. It's just not the type of job that a nonprofessional can handle on his or her own.
Well, Maybe Next—
Yikes. We really don't want to be rude here, but we've got to interrupt again. If you were about to suggest that you'd just wait for next year before scheduling routine air conditioning maintenance, you seriously need to reconsider. The longer that you wait to schedule professional maintenance, the greater the risk to your air conditioning system. Just consider the benefits of what maintenance has to offer.
Improved energy efficiency. When every component in your air conditioning system functions properly, it requires less energy to do its job. That saves you money when cooling your home!
Improved performance quality. An air conditioner isn't really worth all that much if it doesn't cool your home effectively and reliably. When properly maintained, yours will!
Improved equipment lifespan. When you invest in an air conditioner, that should be a long-term investment. If you fail to schedule routine air conditioning maintenance, however, your AC simply won't last as long as it should.
Don't take chances with something as important as your air conditioner or its performance. Let us get it back in fighting shape.
Schedule your AC maintenance with MarGo Plumbing Heating Cooling Inc.