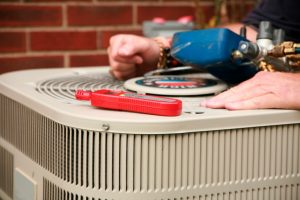 The weather is warming up, which means your heating system can finally take a break. It's easy to feel confident that your air conditioner will work when you need it. And it may work perfectly well—with hidden problems that don't reveal themselves until a hot, humid day finally hits.
We encourage our customers to schedule maintenance for their air conditioning systems well before they break down, as early in the season as possible. If you're still on the fence about whether this service is right for you, we're here to show you why early AC service is vital to your comfort this year.
#1: Detect and Make Repairs Early
Early air conditioning service is a preventative measure, and it includes a full inspection of the inside and outside portions of the system. A small issue within your air conditioner may not present a lot of symptoms as the system is running, and it's most likely to act up as your air conditioner is working its hardest, in the middle of a hot day in summer.
With an inspection early in the season, you can find out about a looming problem and schedule service to get it under control. That means you won't have to deal with it later during the summer, when air conditioners become overworked and are most likely to stop working.
#2: Prevent Future Repairs
In addition, an air conditioning service appointment includes several additional steps to help prevent repairs from occurring in the future. Your air conditioner receives a tune-up that may involve making some minor changes to the system. For example, a technician might do the following.
Tighten electrical connections.
Adjust a fan belt.
Clean the coil outside.
All of this helps the air conditioner to run more smoothly. It slows wear and tear and may prevent the air conditioner from needing repairs in the first place.
#3: Lower Your Energy Bills
A tune-up may make your air conditioner run more efficiently. In fact, air conditioners that receive regular tune-ups may maintain about 95% of their efficiency throughout their lifespans. That means they use less energy, which translates into savings.
Here's an example of how this works. The outside coil of your air conditioner, the condenser coil, allows heat to dissipate from the system as a fan blows over it and refrigerant turns into its liquid form. But when dirt coats the coil, it acts as an insulator, keeping heat in and preventing the air conditioner from doing its job efficiently. A tune-up usually includes coil cleaning, which means heat dissipates into the air as it should, and your AC system won't have to waste any extra energy.
#4: Save Money When You Sign Up for a Maintenance Plan
Finally, when you sign up for a maintenance program with a local contractor, you can expect to save even more. Many contractors offer maintenance plans, which involve paying a monthly or annual fee to receive two tune-ups per year (for your air conditioner and heater).
But some of the better companies offer additional benefits, or perks, for being a member. For example, when you join our maintenance plan, you get 10% off all of our standard services. Any time you need a repair or a new installation, you save!
Contact MarGo Plumbing Heating Cooling Inc. for AC service in West Orange, NJ. Our quality, honesty, and service puts us above the rest.