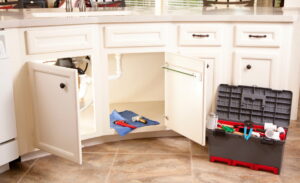 What do you know about chemical drain cleaners? Many homeowners would respond to that question with, "well, I'm not sure but they clean my drains." How do you know they clean your drains? After all the fumes have settled, the gunk is clear from your sink, and a day has passed, does your drain really feel permanently better?
Statistically speaking, you're more likely to harm your plumbing system by pouring those chemicals down there than you are to help it. Chemical drain cleaners are not a very good solution, if a solution at all, to your clogged drain. No chemical in the world will replace good old fashioned sink plumbing in Essex County.
Professional plumbers have the right tools and expertise to ensure they remove your drain clog without harming your plumbing system. There are clean, safe, and environmentally friendly ways to remove a clog—just ask one of our pros!