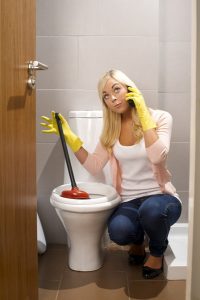 When you're in the business of plumbing, you know that this is any homeowner's biggest grievance. Sure, there are worse things that could happen in a home, but few of them happen again and again the way plumbing clogs often do. Some can be unclogged yourself while some will always require a plumber's help, which is why it's so important to focus on prevention.
You may be able to prevent many of those everyday clogs you find most annoying, and even the big clogs that don't come up so often but tend to cost you more.
Keeping Drains Free of Hair
Hair is one of the most common causes of everyday bathroom plumbing clogs. It's easy to take steps toward keeping the drains free of hair though. Finding a quality trap to set into the drain to collect hair as you shower is one simple step. These drain traps are found at most hardware stores. You can also find them for your sink, but we also recommend taking your morning hair routine a few steps back from the sink to avoid the problem altogether.
Learning the Do's and Don'ts of Garbage Disposals
Ah the garbage disposal: a simple catch-all for all of your after-dinner trash…unless you've done your research. A garbage disposal should NOT be used for all of the leftovers you need to dump out, including:
Any plastic or paper wrappers.
Meat bones, fruit pits, and shells, which the garbage disposal cannot break up.
Fibrous foods like potato skins and celery.
Pasta and rice, which can expand in the drains and create clogs.
Fats, oils, and grease, which coat the lining of your pipes and lead to backup.
These are better left in the trash can. You can keep your garbage disposal clean by adding in a half cup of baking soda followed by a cup of vinegar, and top that all off with some boiling water.
Knowing What Not to Flush
You've probably seen the signs in public restrooms before, but it's not just commercial properties that have to worry about improperly flushed items. You may think it's harmless to put a bit of balled up paper in the toilet, but this is not going to break down with water in the same way that toilet paper does.
Paper items that aren't toilet paper—like paper towels, baby wipes, and feminine products—are found to be the source of the largest bathroom clogs all the time. Even when they claim to be flushable, they usually are not!
Teaching the Young Ones
Some of the above information here may be obvious to you, while some might be brand new. If you have kids, though, the real challenge is how you'll get them to comply to these plumbing guidelines, particularly in the bathroom.
To be honest, it may be a lot of trial and error, but be persistent! Keep trash cans right next to the toilet to encourage people of all ages to throw trash away rather than flushing it. Consider printing out some images of items that belong in the trash (dental floss, bathroom wipes, bandages) and taping this next to the waste basket as a reminder!
Get service for your kitchen or bathroom plumbing in West Orange, NJ from MarGo Plumbing Heating Cooling Inc.