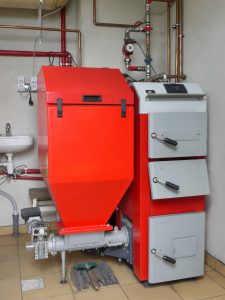 Yikes! It's chilly outside and your heating system is showing signs of failure. Perhaps it's already broken down. This is the worst time for a heater to fail, and you have your fingers crossed for the best. Will you have to replace your heating system? Can it be repaired?
Of course, this is a question we most likely cannot answer before we take a look at your system. However, we're here to help you understand more about when a heater needs repair, and when it starts to show signs you need heater replacement.
First: Look for an Easy Answer
There may be a simple solution for your heating troubles. When a system completely breaks down, you may be tempted to assume the worst. But have you tried the circuit breaker? Even gas heating systems use electricity to run the fan motors and other components.
The issue could also be with the thermostat. Double- and triple-check the settings, as you don't want to call in a technician for nothing. You may have the "fan on" setting enabled, rather than "auto," or someone may have accidentally switched the thermostat from "heat" to "cool."
Finally, check the air filter. If it's dirty, it can block airflow, causing a lot of problems with your heater. It could restrict the air you feel coming from the vents and even lead to overheating.
Know the Limits of an Aging System
When determining whether your heater needs repair or replacement, you should first consider its age. A furnace may not last much longer than 10-15 years. As it approaches this age, it's time to think about whether it's worth it to make multiple repairs as the years go by.
Getting proactive and installing a new heater sooner will help you avoid a major breakdown when you need the heater most. Besides, a new heater will run more efficiently than one you've had for over a decade.
Consider the Quality of Your Installation
Unfortunately, some heating systems fail well before we expect. This often happens if a heater is not the right size for your home. When you don't get your heater installed by a quality company, you might end up with a heater that's too large, or too small, for your home. Either of these issues can lead to the premature demise of your heater, so be sure to call a great HVAC contractor for your next installation.
Ask Around for Cost Estimates
The best way to determine whether your heating system needs to be replaced, or if it can be repaired, is to talk to a technician. Get a diagnosis and find out what it would cost to repair. Still not sure? Ask for a second opinion.
Once you have a cost estimate, it's time to consider the cost of a new system. If a repair is about half as much as a new system, the benefits of a new installation are likely worth it. The repair will only serve as a patch until the rest of the system breaks down.
For heater repair in Livingston, NJ, contact MarGo Plumbing Heating Cooling Inc.