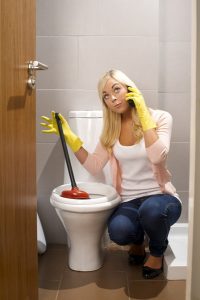 Do-it-yourself work has reached a new peak in recent years. With Pinterest and other DIY sites and guides, you can give it your best when you decide to take up wood crafting, knitting, cooking, or any hobby around the house. You can also learn some of the tips and tricks for, say, fixing a squeaky door or cleaning stains off the carpet.
But some repairs may not be suited to the same DIY treatment. When it comes to your home's plumbing, you can't afford to lose access to clean water, or to have a leak take over your home. Often, a professional plumber who has the right training for the job is the best bet—but some projects still have an easy DIY solution.
Usually, Professional Plumbers Are Key
A professional plumber goes through years of training. With the right company, your plumber is still receiving ongoing training, and they have years of experience behind them. That means they can…
Detect leaks faster
Keep clogs out for good
Make your water cleaner and safer
Access the right skills and tools for the job
Most of the best plumbing tools and supplies are expensive—the tools that plumbers already have on hand. Is it really worth buying a $300 piece of equipment if you're only going to use it once? Even worse—what if it turns out to be the wrong tool for the job?
With all the experience a professional plumber has, you can feel confident the job will be done right the first time around, for the price that actually fits the work. Most of the time, a plumber should be your first choice for a plumbing repair or installation. That means someone who works on plumbing for a living—not a "do-it-all" handyman type with limited experience. However, that's not always the case.
When You Should Do It Yourself
The truth is that, even though plumbing is our job, we don't want to be called in for a repair you could have made all on your own. We are always willing and happy to help, but we also care about our customers and hope they don't waste time and money on a professional plumbing repair that may not be necessary.
Here are times when you may be able to repair your plumbing on your own. If you're still stuck, or if you're not sure how to do the job correctly, please feel free to reach out to our team.
Odors from the drain may not indicate a sewage leak or any other serious problems. Sometimes, you just need to turn on the tap for a bit to clear out the trap. Or, you can try pouring ¼ cup of baking soda in the drains and following that up with some vinegar.
Low water pressure in the sink or shower? You may just need to clean deposits out of the end of the sink faucet's aerator, or disassemble the shower to clean out the screen.
A broken garbage disposal may be fixed simply by pressing the reset button underneath the sink.
You should always call a plunger before calling a plumber for a small clog!
For most of your plumbing needs, reach out to an expert plumber in Wayne, NJ. Contact MarGo Plumbing Heating Cooling Inc.