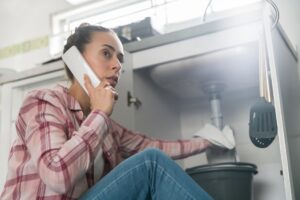 Plumbing systems can be frustrating to say the least. Nothing feels worse than cooking a dinner for loved ones or some friends, and all of a sudden your kitchen drain is clogged. The hardest part about these kinds of ordeals is that you rarely see them coming or have the excess cash to deal with them until its too late. If only there were a voice of reason to help you through these kinds of problems.
That's where we come in! In case you haven't noticed, we're plumbers in Wayne, NJ and we specialize in alleviating problems with plumbing systems. No, we're not going to lambast you for your child having flushed a toy down the toilet, and we're not going to act like every plumbing problem is your fault. What we will do, is help you through the situation to the best of our ability and get you on the road towards success.
1. Constant Drain Clogs
Drain clogs are some of the most frustrating problems to deal with. They're never completely avoidable, and they always occur no matter how careful you are, or the materials of your plumbing system. The fact is that having your drain clog is just a natural part of being a homeowner. How you deal with it is up to you, though!
The Solution: Mesh Screens, Hydro-Jetting, and More
Mesh screens are a great preventative solution for drain clogs. They stop materials from entering your plumbing system that would otherwise cause it to gunk up and be unusable.
However, if you're dealing with a clog that's already formed, why not call our team for hydro jetting services? This is a powerful, effective, and natural solution to drain clogs. We use a pressurized water pump at the end of an auger to remove any material build-up in your drain system. Simple and effective!
2. The Cost of Plumbing Work
Plumbing is expensive! This is one of the most common frustrations we hear about and trust us, we get it! The bottom line is that plumbing work is always more expensive when it happens out of the blue. That's why preventative solutions are worth their weight in gold.
The Solution: Invest in Maintenance
No preventative solution is better than plumbing maintenance. When you join our maintenance program, you get access to many benefits like the improvement of your water efficiency and yearly tune-ups.
Also, our maintenance program comes with inspections that allow us to see when your plumbing system needs work. You'll find out ahead of time and be able to plan your finances accordingly. Isn't that nice?
3. It's Inconvenient
Plumbing problems never happen when you want them to. They always occur at the most inconvenient of times and it's one of the most frustrating aspects of being a homeowner.
The Solution: Choose Our Team!
When you go with our team, we have emergency services available for homeowners that need immediate help. Not every plumber in our area provides this kind of service!
Call MarGo Plumbing Heating Cooling Inc. today for quality plumbing services!