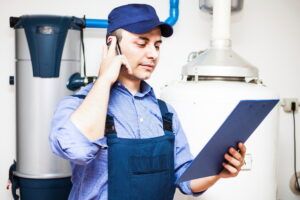 When you read our blogs, how much do you really get out of them? From advice to friendly service tips, we go out of our way to ensure everyone in the Cedar Grove area has access to the professional knowledge they need for plumbing, heating, cooling, and basically any home comfort service. Though, do you listen to us when we talk about calling our team?
You might be thinking that it's handy to check out our blog while you call your "guy" to perform some well-needed HVAC services in Cedar Grove, NJ. It's a good idea, and we won't knock your personal preference for who you hire to do work in your home.
However, we won't back down that easily. We're going to talk today about why we could be a better choice than the "guy" you've been calling for years, and the money you save could grant an extra vacation or two down the line.
Quality and Honesty
When it comes to the HVAC industry, we can't mention enough how important quality work and honest advice are. There are too many companies who will go out on a limb to have customers constantly call them for repairs so they can make an extra buck. Often, with those kinds of companies, relationships come secondary to profit. That's just not how our company works.
Quality is what keeps you coming back to us. We don't need to only repair certain parts of your heating system if repairing more parts will keep it running more efficiently in the long run. Our quality service can make you feel better knowing that there's dedicated craftsmanship that goes into every repair we make. Honesty is what lets you know that you're getting a good deal. We're not going to lie to you about the condition of your plumbing system, or the state of your air conditioner. If we think it might be a cost-effective move to replace a whole system, we'll tell you even if it's hard.
Local and Community-Oriented.
When you work with us, you get the fast service of a large corporation with the down to earth staff of a local crew. Our team lives in this community, we've been here serving people since 1998. It's why we've got so many good stories to tell about our plumbing, heating, cooling, and indoor air quality services!
Seriously, give us a call and ask our team about the time we found snakes inside one of our neighbor's air conditioning unit. They had made a nest in the outside cabinet and one had even coiled around the fan! Or how about the time we were installing a new heating system for a customer and we discovered a whole duck in the chimney! It's safe to say that his goose was cooked.
Simply put, we're a local team of experts that are community-oriented. We enjoy the stories we hear from our customers and neighbors, and we make sure to treat everyone we work with like family. If your "pro" doesn't give you that level of dedication, or if the company you regularly sign up with doesn't treat you like family, then it's time to switch.
MarGo Plumbing Heating Cooling Inc. has your back. Just give us a call if you need us!