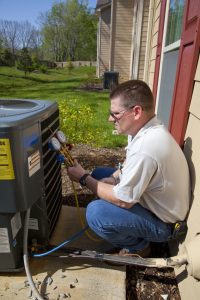 Spring is a bit of a transition month for homeowners, and besides the time-honored tradition of spring cleaning, you have your HVAC system to worry about. This is the time of year when our heating systems see less and less use, and our air conditioners see more and more use.
This is also the perfect opportunity to schedule maintenance for both your heating and your air conditioning system. Doing so can provide a number of benefits to your entire household.
Think of It as a Tune-Up
A maintenance session most closely represents a tune-up on your car. It's not a repair session, since repairs entail a very specific issue that the technician is attempting to correct. It's more of a chance for the technician to look over the system for anything out of the ordinary and get it fixed accordingly. Most of the time, that involves a lot of little problems that don't merit a repair call on their own. Loose bolts, for example, can cause components to rattle in their housings, while clogged burners in your heating system lower the heater's efficiency. These can turn into big problems if left unaddressed, but your technician can deal with them as a normal part of the maintenance session.
In some cases, something more is required, and the problem the technician has unearthed will require a separate repair session to address. In those cases, the technician will set up such a session to match your schedule. Most of the time, the repairs can be conducted immediately after the maintenance session, provided that the proper tools and equipment are on-hand. (This is part of why we keep our trucks well-stocked.) In the event that isn't possible, the repair session can be set up at a time of the homeowner's convenience.
How Does It Help?
A maintenance session provides three very distinct advantages, all of which can help your HVAC system tremendously:
Lower Bills. Improving the efficiency of the system means that it won't cost as much to run from month to month. If, for example, a rattling component was forcing your air conditioner to work harder to do its job, tightening the bolt will eliminate the issue and not require as much energy for the AC to do its job.
Easier Repairs. Generally speaking, it's better to get a handle on repairs sooner rather than later. It usually helps contain the damage, which means the repair might not coast as much as it would otherwise. In addition, it gives you the flexibility to determine the best time in your schedule to plan the repairs. Contrast that with an emergency breakdown, when you need to set your schedule aside to plan for repairs.
Longevity. If you schedule maintenance sessions for both your heating and your air conditioning system every year, it can pay big dividends later in the systems life: lowering the cost of repairs and extending its overall life.
For HVAC repair services for Clifton, NJ, call the professionals at MarGo Plumbing Heating Cooling Inc.!