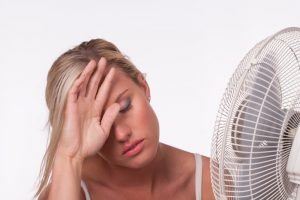 As air conditioning technicians, we always advise you to leave major AC repairs to a professional in your service area. Still, when your air conditioner breaks down completely, we have some advice to add on that may keep you cool while you wait—or that might fix the problem entirely (without the help of a technician).
When your air conditioner won't turn on, there are some things you should check before calling a technician. Otherwise, there are also things you can do to stay cool while you wait. We've got some expert advice below, but call in our team when you do need same-day service from people who know their stuff.
Double-Check and Triple-Check the Thermostat
First things first. You wouldn't want to waste money calling in technicians for something that's not actually broken, right? Before you assume that it's time to call in a technician for air conditioning service, double-check the thermostat and then triple-check it. We know this is probably the first thing you did, but it couldn't hurt!
Make sure the thermostat is really set to a temperature that's cooler than the room temperature.
Check for "fan only" mode, a setting that won't actually keep you cool and should be avoided.
Double check that the temperature sensor is not covered or in a location that could affect its reading.
Try This First
Before you assume that you need AC repair, it's important to try what you can to get it back up and running.
If you're simply not getting enough airflow through the vents, ask yourself when you last changed the air filter. A clogged filter can affect airflow and AC efficiency, so try replacing yours (and change it every month or two).
Check the circuit breaker if the air conditioner has shut down completely.
Make sure there's power in other parts of your home as well; there could be an outage.
Get the Right Technicians
If you've narrowed it down to a problem that requires professional repair, you must get the right technicians on the phone. That means finding a company that offers same-day service (like we do!).
Furthermore, you should keep in mind that a technician cannot give you an accurate price quote over the phone. They must see the issue with your air conditioner first. Any attempt at an accurate price quote that goes beyond a diagnostic fee means the company is likely either inexperienced or running a scam. It happens!
Stay Cool While You Wait
While you wait for technicians to arrive, you can stay cool in other ways. While we wouldn't normally recommend fans as a means of keeping cool (as they cannot actually lower the temperature), they may be your best bet in the summer while you wait for a technician to show up. When the fan hits your skin, you feel cooler because sweat can evaporate from your body more easily.
Dress in light clothing, drink plenty of water, and consider leaving the home for a short while if you have the opportunity.
MarGo Plumbing Heating Cooling Inc. installs and services air conditioners in Cedar Grove, NJ and throughout the area. Call us for same-day service!