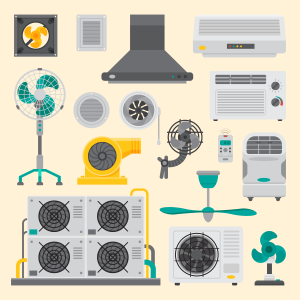 The first thing people think of when they decide to take the plunge into home air conditioning is the central air conditioner. We get it, they're the most common and some of the most affordable types of air conditioners on the market. There's a good reason why many homes in our area utilize the technology of central air conditioning. However, they're not the be-all-end-all of AC innovation—not by a long shot.
Today, we're going to talk about some of the lesser-known types of air conditioning in Clifton, NJ. From ductless air conditioners to heat pumps, there exists a wide variety of AC types that you can take advantage of. If you're looking for alternative solutions that both increase efficiency and effectiveness, then one of these systems might be perfect for your home. Keep reading and we promise you'll be happy you took our advice.
Three Unique Types
While these systems might technically count as air conditioners, there's a lot more to it than that. They're unique, each with their own pros and cons, taking the air conditioning process to new heights. We're not here to talk about which system is the best, only which system is the best fit for your home!
Central Air Conditioners
Are you looking for an affordable cooling solution for our home? If you don't want to deal with the new technology and you've already got a heater that's in good condition, then a central air conditioner might be perfect for your home. These systems utilize refrigerant to cool air in a centralized unit, to then distribute that air through a home's air ducts. They're often the most affordable air conditioning system on the market because they only cool your home and they still need air ducts to work. If you lack ducts, or need a sensible heating system, take a look at some of the more versatile systems below.
Heat Pumps
So, let's say you've got ductwork that's in good condition but you're in need of a heating and cooling system. Well, you could purchase a central air conditioner and a furnace, or you can cut costs and invest in an incredibly efficient heat pump that works all year round! Heat pumps function like central air conditioners except for the one small detail that they function in reverse as well! They can move the heat out of your house in the summer and into your house in the winter, so you've got comprehensive all-year comfort!
Ductless Heat Pumps
So many homeowners have the misconception that they can't get adequate air conditioning if they don't have air ducts. That couldn't be more wrong! Ductless heat pumps work without air ducts, utilizing an outdoor cabinet as well as up to four indoor air handlers that blow cool, conditioned air into your home. These air handlers can be placed strategically throughout your home to maximize your comfort. Oh, and since they're heat pumps, they can function to both heat and cool your home throughout the year. Talk about a comprehensive solution!
If any of these comfort systems sound like they could be useful in your home, call our team at MarGo Plumbing Heating Cooling Inc.