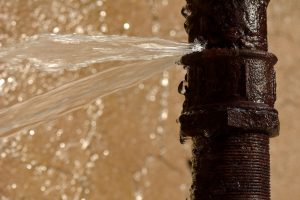 Plumbing leaks never seem to be that big a deal in the beginning. After all, it's just a few drips here and a few drops there. Ignore this at your own peril, however, as even a slow or intermittent leak can quickly turn into costly damages and repairs. As soon as you have any of the indicators below of faucet, water heater, sewage line, or slab leaks, make the smart call: contact a professional plumbing contractor to immediately diagnose and fix the issue.
4 Signs It's Time to Repair a Plumbing Leak
Just as a leak may not initially seem that serious, you may think it won't be that hard to fix on your own. The situations below, however, usually require specialized skills and tools. The last thing you want to do is create more problems than you've solved. That's why when you need to repair a plumbing leak, you should call the experts at your local plumbing service in Cedar Grove.
1. Faucet Leak
This is the most common and obvious leak. Plus, it can be the easiest to repair if all the faucet needs are new washers. It may not be that simple, though, if the hardware is at the end of its lifecycle and needs to be replaced.
2. Water Heater Leak
This type of leak has the most clear-cut solution: Replace your hot water heater immediately. Water heater leaks cannot be patched as they indicate serious deterioration of the tank and its inner lining. Then again, if your water heater is old enough it's beginning to wear out, you can probably install a new one which is significantly more energy efficient. Or, you might consider the merits of a tankless system.
3. Sewage Line Leak
As the saying goes, the grass is always greener on the other side. It's also greener in your yard where you have a sewage line leak. In the past, a big section of your yard would have to be excavated to find the leak and replace pipe.
Today, plumbing professionals use miniature cameras inserted into your pipe system to pinpoint leaks. Then, they can usually be fixed by inflatable slip linings inserted into the pipe or through ambient cured-in-place-pipe (CIPP) techniques.
4. Slab Leak
Slab leaks can be the hardest to identify. The first sign of trouble may be steadily increasing water bills. You may eventually have water bubbling up through cracks in the floor or pooling outside along an exterior wall. If it's a hot water leak, pets will gravitate to warm spots on the floor in winter months. Once a leak is identified, it can usually be repaired using the same methods as a sewage line leak.
Selecting a Plumbing Contractor
When you need to repair a plumbing leak, you want the job done fast, but it must also be done right. When MarGo Plumbing Heating Cooling Inc. was founded twenty years ago, we had one guiding principle: to provide the best, most honest customer service possible. Today, this is still the driving force moving our company forward.
Got a leak? Contact MarGo Plumbing Heating Cooling Inc. today!