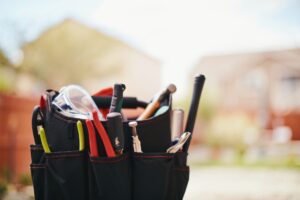 It's springtime, which means all of the folks with an aptitude for gardening are getting giddy at the thought of building their 2022 gardens. This is the time of year where all of our neighbors and friends start pulling out their spades and digging equipment, and start getting to work on that next project. Maybe this is the year that you're going to set up a nice, comfortable firepit for your friends and family? Or is this the year that you're finally going to build that fence?
Well, if you're considering doing any digging, we'd like to stop you right there for just a second. What lies underneath the ground on your property is entirely your business, but your spring dream could turn into a nightmare when you accidentally strike a main water line.
You can always talk to your local municipality, or our expert plumbers in Wayne, NJ if you're looking for tips on avoiding this disaster.
Start With 811 Dig!
811 Dig is a nationwide service that is free and easy to use. For any homeowners that are starting their gardening, fencing, or irrigation project but they don't know where a main water line might be, you can call this number and schedule an appointment.
This number is specifically to notify your utility companies to mark off your property with bright paint where the water lines, gas lines, or utility lines might be if they're buried underground. With this information, you can easily dig around them and avoid any problems from here on out.
Evaluate Your Next Steps
We know that it can be kind of disappointing to find out that you've got a main water line running directly through an area you need to dig. But it doesn't have to end there.
Firstly, you can always change the scope of your work to go around those lines. This is obviously going to be the cheapest and easiest method for your home project.
Secondly, if you can't dig around the area where your main water line is, and you're willing to invest in your property for your vision, then you can call our team for support. We can figure out a way to repipe your water line so that it's not in the way of your project. This might cost more money, but it's worth it for the sake of your own project and vision.
What to Do When You Accidentally Rupture a Pipe
Uh oh! We've all been there. You're digging and you think you've hit a rock when it's actually your main water line. First of all, be thankful it wasn't a gas line! This kind of haphazard digging can be dangerous because of the fact that you can hit a gas line or an electric line.
You're going to need to call a professional to have this water line leak patched and the water system restored to its original pressure.
We Can Help!
Our team is full of master plumbers who can absolutely address your plumbing concern. You can just call us and we'll give you an evaluation as to what work needs to be done and how much it might cost!
Call MarGo Plumbing Heating Cooling Inc. for help with your main water line problem.