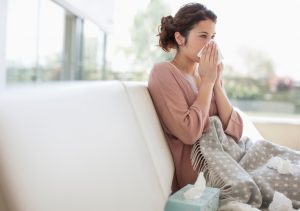 Your air filter serves an extremely valuable purpose when it comes to your heating and cooling systems. Without it, your air handler (the blower fan and other indoor components of your furnace or air conditioner) could suffer damage due to the force of incoming debris. But the filter media blocks the way and keeps your equipment protected.
You must change the filter every 1-3 months if you expect your air conditioner or heater to do its job, and not for the reason many people think. A quality filter does keep many allergens out of the air, but the reason we recommend regular changeouts is to continue to protect your AC and heating equipment. A clogged filter could keep air from flowing into the system with ease.
For quality air filtration, the standard air filter may simply not be enough. Look into other options—including good old-fashioned home cleaning—to keep your air cleaner as allergy season approaches.
Air Filtration Systems
If you're looking for a better air filter, you may not be able to find one strong enough that fits within the designated slot. Rather, you might look into a whole-house air filtration system, which a technician can help with to ensure proper installation. However, there are some things you should know first.
The MERV indicates effectiveness. If a MERV rating is available for the air filter you are considering, use this to determine how well it can work to eliminate the smallest of particles. A MERV around 12 will do much better than a filter with a MERV of 4, for example.
A stronger filter could be problematic. You may decide on a stronger air filter if people in your family have severe allergies or asthma symptoms. However, this isn't necessarily the best option. Residential air systems may not be able to accommodate a stronger filter, which can block particulate as well as the air you need.
Whole-house air filtration systems are often air purifiers and filters in one. That way, you have a basic media filter that may be pleated to trap particles on a larger surface area. And you also get electronic air purification, which may work better for your needs.
Air Purifiers
We use the term air purification to refer to systems that use electronic means to clean the air. One is an electronic air purifier reliant on ionization. This means that it sends out ions to charge particles in the air. They then become attracted to a surface of the opposite charge, and this may be either a set of plates within the AC system or a surface around your home (which you'll clean anyway).
Our favorite air purifiers use ultraviolet light to kill off germs in the air. This is ideal for people with immune system disorders, or anyone with young children or elderly residents in the home. Technicians can install UV light in your HVAC system to kill off germs in all the air that passes through.
Humidifiers and Dehumidifiers
Of course, air filtration and cleaning may not be the best choice for you and your home. You may need to add moisture to the home if dry air makes you and your family members ill and causes you to feel lots of dry skin and static shocks. Or, you may need to remove moisture from a hot, humid home in the summer.
Ask your technician about installing a whole-house humidifier (or dehumidifier) if you need relief for problems that go beyond climate control. Consulting a qualified HVAC technician from the get-go is the best way to ensure the air throughout your home gets the treatment you need.
Contact MarGo Plumbing Heating Cooling Inc. for quality air filtration and air purification in West Orange, NJ.