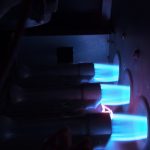 You've had enough. Your gas furnace cannot seem to do its job the way you're used to, and you're tired of hearing the system turn on and off dozens of times throughout the day. Is there something you can do? Will you have to call in a technician? Will you need a new furnace?
Sometimes, the solution is simple—at least with the help of a qualified heating technician—and the issue can be resolved with little stress. There may even be things you can do on your own to resolve it. But, of course, something troubling may cause you to spend a lot on repairs or furnace replacement. We're here to detail all of these situations.
The Air Filter Is Dirty
This is perhaps the simplest explanation for a furnace that cannot seem to run for long enough. It may be that the filter is too dirty to let the right amount of air come through. When there is not enough air coming into the system, it can essentially overheat, causing a safety switch to activate and shut it off too soon. We hope the issue is not more serious than this, but you should be changing the furnace filter every 3 months no matter what.
There's a Problem with the Thermostat
Honestly, it's likely that the issues with your furnace have nothing to do with the thermostat. Think about all of the parts a furnace has: ignition switch, blower fan, motors, burners. The thermostat is one of the smallest and least complex of all of these!
Still, it's a possibility. If the wiring on your thermostat is not set up properly, it could potentially allow the thermostat to malfunction. You can remove the faceplate to check the wiring, but it's easier to let an experienced technician handle the work.
A Safety Switch Is Triggered
Modern-day furnaces have lots of safety switches to shut off the system when something is not working right. And this is a good thing! You'd much rather have a furnace shut off too frequently than have your system overheat or your home fill with carbon monoxide!
There are several safety switches that may activate and shut off your system, like these. A heating technician will have to make the repair.
High Limit Switch – This is the switch that keeps the furnace from overheating due to a broken fan motor or another issue.
Flue Limit Switch – If pressure sensors detect that not enough dangerous flue gases are leaving the house, this switch shuts off the system to keep your family safe and prevent gases from backing up into the home.
Flame Sensor – If the flame from the burner is not large enough, the flame sensor shuts off the system. It could also be that the flame sensor is dirty and failing to detect the flame. Though it may be something you can fix on your own, we recommend you leave this one up to a professional technician.
It's Cold!
The fact is that a furnace is designed to shut off and turn on about 3-8 times during the day, and if it turns on and off a bit more, it may not be a big deal. On the other hand, there may be issues within the home contributing to the problem, such as…
Poor insulation
Air leaks
Duct leaks
The Furnace Is Too Big
Unfortunately, it is possible that your furnace was never the correct size for your home to start with. An incorrectly sized furnace will short cycle, forcing you to replace it before its time is typically up, since this kind of behavior shortens the lifespan of the system.
Contact MarGo Plumbing Heating Cooling Inc. for heating service in Cedar Grove, NJ, and get quality, honesty, and the service you deserve.