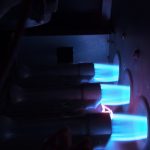 Before we begin, we want to remind you that if you suspect a gas leak, vacate the home ASAP and call the gas company. If you don't have the number on hand, call 911. For your family's health and safety, it's not worth staying indoors. You should also make sure the home is properly equipped with smoke detectors and carbon monoxide detectors that are regularly tested.
Otherwise, problems with gas furnaces typically are not such a huge deal. We want to give you an idea of what may go wrong, so you can narrow in a problem before you call a technician (or even "fix" the problem on your own).
Dirty Flame Sensor
The flame sensor, once called the thermocouple (in older systems, although this worked a bit differently), is a safety component. The flame sensor is essentially a small metal rod, but it plays an important role. If there is no flame present when the burner gas turns on, the sensor reads the temperature and shuts the furnace off.
The furnace may turn off, however, if the flame sensor is dirty, as it cannot properly detect the flame. Cleaning it off requires a bit of expertise, so we don't recommend this job for someone with no experience.
Ignition Troubles
Older furnaces had standing gas pilots that could go out due to any number of issues—local work by the utility company, for example, or just a draft. If you have a standing gas pilot and it will not heat up, you may just have to light it. However, we recommend an upgrade to an electronic ignition furnace.
An electronic ignition furnace uses either a spark or a hot surface igniter to start the flame only when the furnace calls for heat—a more efficient and safer way to start it up. When something goes wrong, the igniter often needs replacement.
Fan Motor Problems
The fan is responsible for moving the air through your home. The fan motor may suffer from a number of problems—it could just be a loose electrical connection or debris may get lodged in the mechanism. On the other hand, the motor may need to be replaced.
Faulty Limit Switch
The limit switch is meant to shut off the furnace in case the air plenum gets too hot. If the furnace keeps shutting off shortly after it starts, it may be that the limit switch needs replacement. On the other hand, this safety switch may be indicating that something else is wrong with the system, which it shuts off to prevent overheating.
Dirty Air Filter
Finally, one of the biggest problems to come up with heating systems is a dirty air filter. People are surprised to hear just how much trouble it can cause. A clogged filter blocks airflow, which means you don't get as much airflow as you need through the vents.
An even bigger issue is the damage it can cause to your furnace. The fan motor becomes overworked attempting to run nonstop to heat your home, which lowers efficiency and reduces the lifespan of furnace components. Change your filter once a month!
When you need furnace repair in Clifton, NJ, contact MarGo Plumbing Heating Cooling Inc.