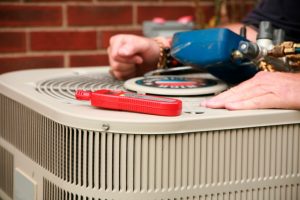 It's hard to say why air conditioners break when they do. Your air conditioning system may be working just fine one day but refuse to start up the next. On the other hand, air conditioners may wear out slowly, with noticeably reduced performance that one day leads to a not-entirely-unexpected system breakdown.
While technicians cannot tell you exactly when an air conditioner will break, they can help you to take the necessary steps to prevent the air conditioner from breaking in the first place. They can detect that a part of your air conditioner is failing so that you can replace or repair it before you ever have to worry about a system breakdown. And that all starts with a tune-up.
Get annual air conditioning tune-ups
While not 100% effective at preventing air conditioning repair, air conditioners that get regular maintenance tend to last longer and break less often than those that do not. A professional AC tune-up comes from a qualified technician. It includes steps such as:
Measuring refrigerant levels
Checking electrical connections
Testing motors
Cleaning coils
All this and more helps to keep your air conditioner running smoothly, which means it's less likely to need repairs in the summer. However, your technician may spot a problem during an inspection. This can be a good thing! You can make repairs on your own time rather than waiting for the system to break down suddenly.
Change your air filter
Changing your air filter each and every month is key to preventing your system from slowly wearing out. The air filter may seem like only a small component in your air conditioner, but it's actually a major part of AC system protection, preventing debris from pummeling the AC unit.
When the filter gets too clogged, air cannot flow through the air conditioner properly. This causes a number of problems with the way the air conditioner works.
The inside evaporator coil could freeze.
You will likely have trouble with airflow, meaning discomfort and high bills.
The system can become overworked and break down.
Use the Air Conditioner a Little Less
We don't mean that you should have to shut off the air conditioner completely. However, currently you may use your air conditioner just a bit more than is really necessary. The more you use the air conditioner, the faster it wears down (although some annual wear and tear is inevitable).
This could be due to the way you use the thermostat, habits that seem harmless. By all means, keep your air conditioner running in the summer! But try to avoid these common habits.
Don't turn the temperature all the way down as far as it goes when you get home. This won't make the air conditioner move any faster, and will only lower the temperature and keep the air conditioner running longer than you need.
Try not to constantly reset the thermostat, as this wears down the system. Use a programmable thermostat to automatically adjust the temperature to the most comfortable, efficient temperature.
Close the shades and blinds in the daytime so the air conditioner won't have to work so hard.
Take advantage of nighttime breezes and open a window from time to time if you can!
For air conditioning repair in Livingston, NJ, get in touch with your friendly local team at MarGo Plumbing Heating Cooling Inc.