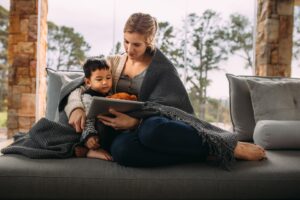 Air conditioning maintenance might seem simple when we describe it. It consists of cleaning the coils and interior components of the system, providing small adjustments and improvements where they can be made, and it even includes an inspection to fix small problems before they become full-fledged repair needs. Sure, when you read it all out like that, it seems like anyone can do AC maintenance. But the truth is a lot different.
AC maintenance is complicated. Air conditioning in Roseland, NJ is one of those things that has gotten more complex and expensive over the years, and the technology is not as easy to maintain as it once was. Even just a small hiccup in your DIY maintenance can lead to an expensive repair, a botched AC system, and even worse problems.
Today, we'd like to cover why air conditioning maintenance is a service that you should leave to the professionals–every time!
AC Technology Is Complicated
First, let's talk about the technology at hand. Air conditioners are much more complex these days, when compared to some of the earlier models from twenty or thirty years ago. Since energy efficiency is the most important metric of an air conditioner, there are small components made with very particular materials that keep your system running smoothly and with minimal energy consumption.
The complexity of modern air conditioners makes them not very ideal for DIY fixes. Your time and your energy is probably better spent on a different project.
There's a Lot on the Line
Complexity aside, there's a lot on the line when you're considering doing any DIY AC work. Think about it, not only are you risking your home comfort, but you're risking thousands of dollars of equipment and your efficiency levels. One small mistake can lead to multiple repair needs that cost more money than you end up saving. Here are just a few more reasons why DIY AC maintenance can be a problem.
Adjustments need to be made. Many components of your air conditioner need to be adjusted during maintenance. Misaligned parts should be put back in place, broken parts should be replaced, and the system should be set up to run properly for the summer.
Efficiency levels need to be improved. Maintenance helps retain the original energy efficiency of the system. DIY maintenance that's done by someone who isn't trained in this kind of work can lead to a significant decrease in the efficiency of the unit.
Diagnosing any problems. One major part of maintenance is inspection. A professional can inspect your system and warn you about any problems that might be forming. Then, we can schedule a separate repair to fix the problem, or our technician might even be able to fix it right then and there!
Avoid Expensive Mistakes
Look, we know that DIY work is really fun and there's an honor to it. But we saved the most important reason to avoid DIY AC maintenance for last. DIY maintenance can lead to expensive mistakes, and the truth is that you're likely to end up spending more money fixing those mistakes than you save with DIY maintenance.
Schedule maintenance today by calling MarGo Plumbing Heating Cooling Inc.