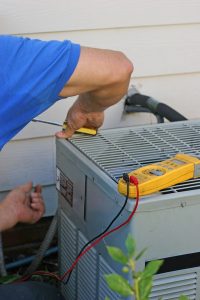 We can all agree on one thing – nobody likes living in a stuffy, uncomfortable house.
Just like every other system in your house, your central AC needs maintenance on a regular basis. Unlike others, though, central AC and HVAC units have a life cycle and past a certain age, they're going to need to be replaced.
Replacement of a central AC system isn't cheap, but if it's not performing up to expectations (rather than not running at all) there's a good chance it just needs maintenance or repair rather than replacement.
Let's look at a few signs that you might need central AC repair or maintenance.
Top 3 Signs You Need Central AC Repair in Your Home
The following list are just a few examples of what you may experience. If you encounter any of these taking place in your home or office, you should call for central AC repair.
Poor Cooling
This one's kind of obvious – after all, you expect the unit to act as a heat exchanger and replace the warm air in your house with cool, dry air.
When the air that's coming from the registers isn't as cold as it should be, even with the system running at full blast, chances are the refrigerant levels have dropped and the system is in need of a recharge.
Worse, it could mean that the compressor has failed or is near failure, or that the system has iced over and frozen up. Regardless, poor cooling means it's time for a tune-up.
Poor Air Flow
Impaired air flow from the registers can indicate a few problems, some minor and some not-so-minor.
It could be something as simple as a clogged filter that's in need of replacement, or it could mean a problem with the system's blower or the unit itself. Don't rule out an issue with ductwork – the ducts in a central AC system can accumulate debris and mold, which can pose a serious threat to your family's health.
Having ductwork cleaned can restore AC performance and eliminate any issues with mold and odor.
Thermostat Problems
Something has to control that AC system, and your thermostat is a key part of proper central AC performance. A sure sign that the thermostat is failing is any situation where one part of the house is overly cold, when other parts of the house are remaining at the same temperature.
Other signs of potential AC problems include:
Strange noises such as clanking, squealing, rattling or grating sounds
A pungent, smoky smell that can indicate wires that have burned out
Musty smells that point to mold buildup in the ductwork and registers
Puddles and accumulation of moisture that might mean the AC unit's condensate drain tube is obstructed
Preventative Central AC Maintenance is Best for Your Home and Finances
One thing is certain – like with an automotive problem or any other issue, it's best to perform preventive maintenance and address the issue when it's minor rather than waiting until it's catastrophic.
Figure yearly AC maintenance into your household budget and be sure to only trust qualified, highly trained AC techs to do any of the work.
Even if you're a handyman around the house on other stuff, this isn't something you want to take on yourself.
For central ac repair in Cedar Grove, contact MarGo Plumbing Heating Cooling Inc. today!