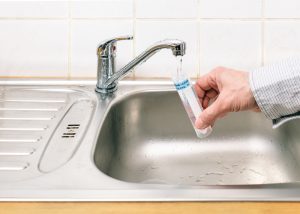 A lot of people don't really like the taste of water much to begin with, but if your water tastes bad, then it might be time for water treatment. Bad tastes and smells in your water can be attributed to an overall problem with your water's quality, and that can lead to health problems or the deterioration of your plumbing system.
Below, we'll go over your options for treatment as well as several signs that you need to have your water tested by a Wayne, NJ plumber.
Types of Treatment Systems
Among your water treatment options, there are two types:
Water Filters and Purifiers
These methods are useful when you need to remove contaminants from your water. Contaminants include things like scum, bacteria, harmful minerals, and anything else that is going to change the color, taste, or quality of your water. There are several kinds of filters available for you depending on what a water test says about your supply.
Water Softening
Hard water isn't really a contaminant in the sense used above, but it can be a nuisance. Hard water is simply water that has high concentrations of minerals like calcium and mineral. It may not be harmful to your health, but hard water can ruin your plumbing system over time.
Signs You Should Schedule a Water Test
Without further ado, here are 7 signs it's time to get a water test and look at some options for treatment.
1. Cloudy With A Chance of Contaminants
Sometimes you pour a glass of water and find that it's cloudy. But after a few seconds, it clears up. This is due to tiny air bubbles and is harmless. But if the bubbles don't clear up, it could be due to an excess of methane gas or hard water. Best to have it tested to make sure.
2. Soap Scum on Dishes and Glassware
Constant exposure to hard water will create blemishes on your dishes and utensils. This a result of the water being unable to dissolve the soap properly. Soap scum is especially apparent on glassware, which will start to take on a cloudy appearance.
3. Oily Film on Top of Your Water
If you're seeing an oily film on top of your water, you can potentially find out what it is by stirring it. If it breaks apart easily, it's most likely due to iron bacteria. This is more common in well systems and could indicate the need for a new well pump.
If it doesn't break up, it could be hydrogen sulfide, which can be harmful in high concentrations.
4. Limescale On Your Fixtures
Hard water leaves traces of limescale on your sink and shower faucets. Limescale is the white, chalky deposit that builds up around the mouth of the faucet and the base of the valves.
5. Low Water Pressure
Another symptom of hard water. If limescale is appearing on your fixtures, it will be even worse inside your pipes. The buildup over time can lead to lowered water pressure.
6. It Smells Bad…
If your water smells like rotten eggs, hydrogen sulfide is the likely culprit.
7. …And Tastes Worse
Among hydrogen sulfide, metals like mercury, lead, arsenic, and iron can create some bad tasting water.