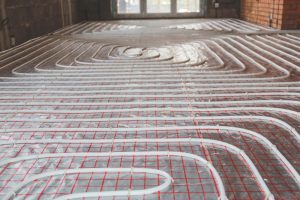 There are many costs involved with running a heating system. Installation is just the first cost. After that, you'll need to think about the cost to run it every month—this is where a high-efficiency model can really make a difference.
Then, there's the cost of maintenance and repairs. We suggest getting annual maintenance in order to severely reduce the occurrence of repair issues. But even with maintenance, there's a slim chance that the heater will suffer from a repair issue at some point during its life.
Ultimately, this might lead a homeowner to ask: Which heating system will require the least number of heating repairs in Livingston, NJ?
From a purely technical standpoint, that heater would have to be the radiant heating system. Allow us to explain.

But First, A Disclaimer
We can't go on without mentioning that there are several reasons why a heating system might develop repair issues. There's no guarantee that one kind of system will need fewer repairs than another.
Factors like the quality of the manufacturer, how often the system receives maintenance, and how frequently the system is used will all contribute to its overall lifespan.
Why Radiant Heating?
The reason a radiant heating system would need fewer repairs is because they're incredibly simple.
For example, an electric in-floor radiant heating system consists of nothing more than a set of heating panels beneath your floor. As long as the connections stay in-tact, there's no reason it shouldn't be able to heat your home reliably for its entire lifespan.
Compare this to forced-air heating systems, such as heat pumps and furnaces. There are numerous components involved such as gas burners, refrigerant lines, blower motors, duct systems, and fuel lines. If one of these components stops functioning, it creates a chain reaction that severely reduces efficiency and might even prevent the system from running.
It Depends on the Type of System
Electric in-floor radiant heating is just one type of system. If you decide to use a different fuel source, the complexity of the system increases.
For example, a natural gas radiant heating system is cheaper to operate, but it requires the use of a boiler. Boilers still require fewer repairs than forced-air heaters, but they can develop issues due to their constant exposure to water. Otherwise, their operation is very similar: they both use in-floor components that heat your home in a similar fashion.
Conclusion
Choosing the right system will depend on how much you're willing to invest in the installation.
Forced-air systems will be less expensive to install, but they have many more mechanical parts. Annual maintenance is essential to keep them running.
Radiant heating systems are much simpler, but their installation can be costly. After all, you'll need to be prepared to rip up the floors or walls in your rooms to install them.
Need help weighing out the costs of a new system? You can count on us to find the right one for you. Contact MarGo Plumbing Heating Cooling Inc. today to speak with an expert.